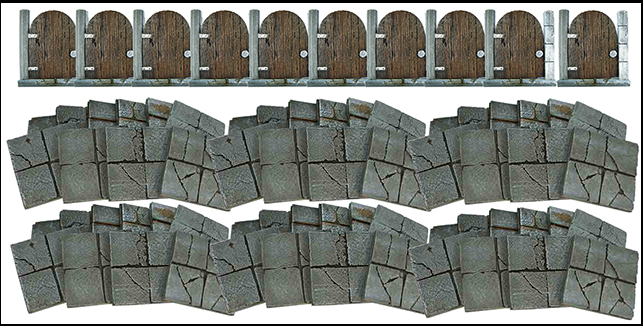 Stones Master Builder set comes with:
60 Double-sided Stone/Earth 2" x 2" & over a quarter of an inch thick Dungeon Tiles
10 Wooden Doors w/frame - Doors come with magnets for easy open & close!
All made of the new gray-black super durable "Stones" material!
(Models supplied unpainted. Some assembly may be required.)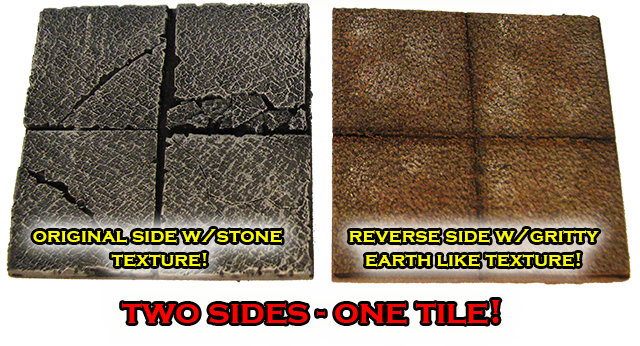 How it began.
Just like many of you, one of our favorite pass-times is to play games. We have played many tabletop and role-playing games such as D&D, Descent, Warhammer Quest, Heroquest...just to name a few. For some of the games we play, it is easier to have a 3D element such as tiles to represent the "dungeon" to show where you are during game play. We used various types of game tiles such as cardboard, which began to wear over time. We really wanted something more durable with a more realistic look and feel, so we started to look into different 3D tile sets.
The ones with walls, although very nice, were too restrictive. For example, when miniatures were very animated or large and they extended beyond the boundaries of the walls, (which in most cases also took up about half the tile section it was resting on) they would not fit. They were also more limited when it came to construction, and we would often run out of straight wall sections or corner sections and so on.
We also tried the plaster molds, but they were too fragile for us (and a lot of work). Resin tiles were good and somewhat customizable, but expensive as well. Still the search was on to find a material to meet our needs...one that was highly customizable, could take a beating, and was most importantly - affordable, which would allow us to build and customize until our hearts were content.
Finally, we came across a solution, which is what we call "STONES." And that is how we arrived here with you today.
What is it made of?
The material we now call "Stones" is made out of a Polymer-Plastic. Although the initial mold/production cost is very high, the end result is a product which is everything we wanted - very durable and highly customizable, which means they can be snipped, cut, heated and altered, and can take a beating! They are made in a gray-black material with built-in primer, which means all you have to do is take them out of the box, wash and paint - very simple. Also being very durable means easy to store. Just slide them into a duffel bag or box. Most importantly, being affordable means you can get more for your money, so you can paint one set stone grey and do another with a sand color. You can also customize them or even use them in other games as sidewalks, courtyards, etc. The possibilities are truly as boundless as your imagination!
One last thing about these amazing gaming tiles is that they have an "anti-slip" backing. That means that when tables are bumped, the tiles are less likely to slip and slide, especially when you play them on a cloth mat - it simply grabs hold of the material and in most cases stays where you placed it. We also offer a gaming mat to be used with the tiles which is sold separately. so check it out.

Dropped from high, hit with hammer & run over by truck, Stones can take a "lickin" and keep on!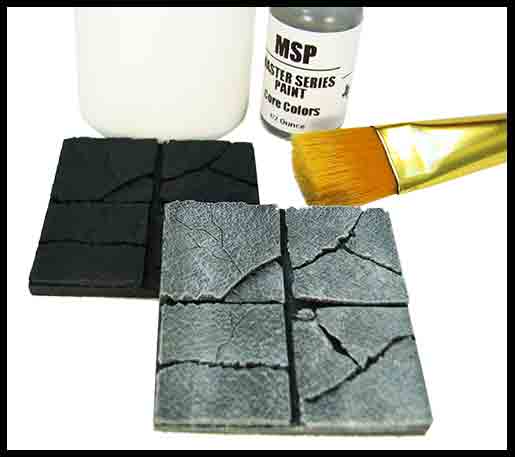 As mentioned above, painting the Stones is as simple as Dry-brushing grey to white. The deep gray/black color when dry-brushed really brings out the detail!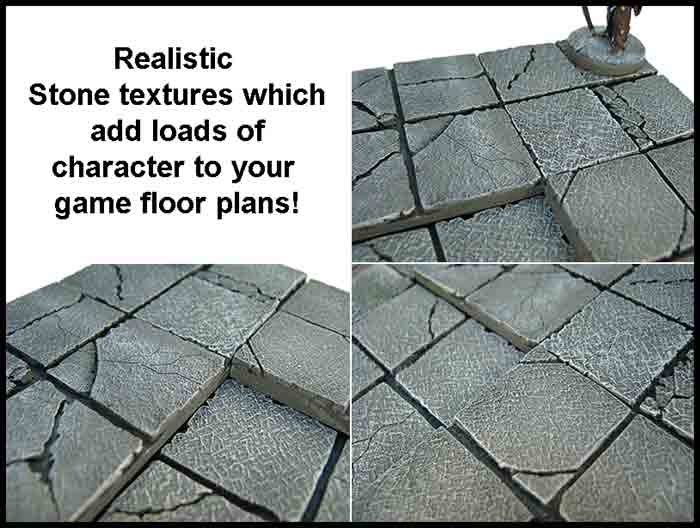 "Stones" Doors!
The "Stones" Doors come with a base (which also has the "anti-slip" backing) and door. The doors have very powerful Earth Magnets inset in the bottom of the post and in the base so they can be easily opened and closed. The doors can also be removed to make even bigger openings to larger passageways and rooms!
DOUBLE-SIDED TILES!
The Stones Dungeon tiles have an additional side and maintains its anti-slip back. We now have the best of both worlds! The anti-slip backing is a grainy-like texture, so we have added the 1" grid to the back, and Viola! It can now be painted like dirt, mud and so on (the other side is still the Stones Dungeon pattern - they're double-sided!) We are also going to design a Caverns Accessories Set to go along with it and offer it as an add-on, so you can add rock formations, stalagmites, growth and so on by placing them right on the tiles! Remember, these are just prototypes/WIPs, but it gives you an idea of what is to come.
FAQ:
What is the size of the Stones Dungeon Tiles?
-Our Stones Dungeon Tiles are 2" x 2" wide and are slightly thicker than 1/4".
Are they compatible with other gaming tiles on the market?
-If they are 2" x 2" then yes. There may be some slight difference in height, so there would be just a "step up" or "step down" in some areas. Another idea is to use them in different sections such as one for rooms and others for hallways.
What paints can I use to paint them, is there any prep?
-Use only acrylic (water-based) paints. We recommend to wash them first with warm soapy water to remove any residue that may be present from the casting process. No primer is needed; however, if you wish to use primer, simply brush on your desired acrylic primer color such as white and then paint. You will also find that thinning down acrylic paints with Isopropyl Alcohol (Rubbing Alcohol) will create a stain that can be applied after you have painted your tiles your desired color, which can give you some great color variations.