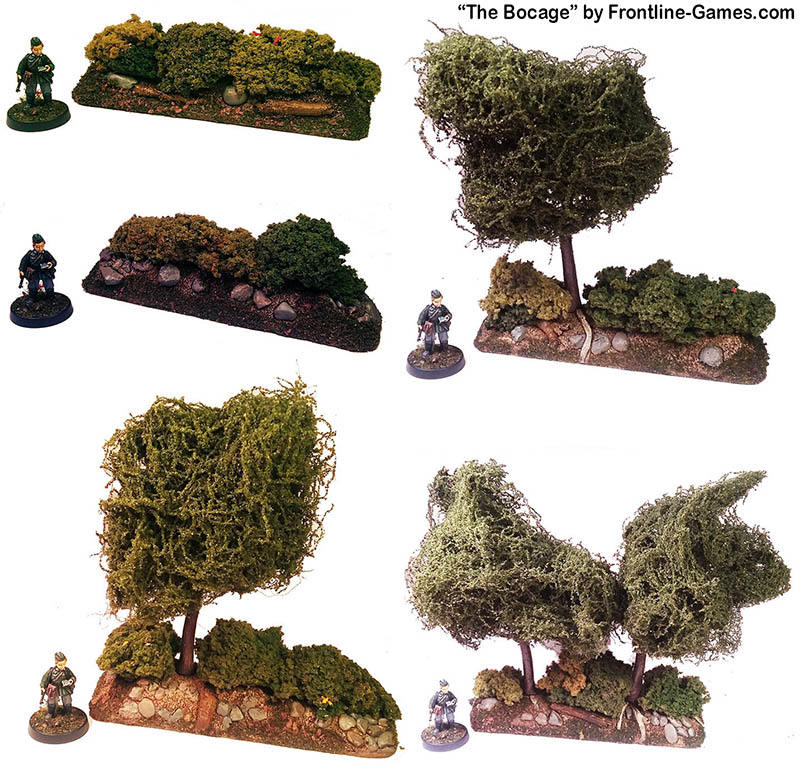 "THE BOCAGE" - Hedgerow Straight sections set comes with the following to make your Hedgerow sections, the straight sections will be chosen from the sections pictures above:
4 x highly-detailed Resin-cast 5" x 1.5" Earth/Rock/Fallen Tree-limbs (Sections with trees have exposed roots for extra detail as well!) to simulate the many years of pushing debris from fields to the edges forming natural "Bocage Hedgerow" barriers between fields. You will be provided with two sections without trees and two with trees per set.
Enough Bare Tree trunks for your Hedgerow sections.
"Tree-Making" material is included to make your Trees as seen above!
1 bag of Clump-foliage to add bushes to your Hedgerow sections.
1 bag of loose plant life to add more character to your Hedgerow sections.
Instructions for making your "Bocage" Hedgerow Sections
We recommend the "Green Basing Flock" and the "Bark/Fallen Leaves Basing Flock" from our Foliage line to add flock to your Hedgerow sections. You can find them HERE.
Check out the "Frontline Games: The Bocage Hedgerow Set – A closer look and Building/painting tutorial" on this blog site for pictures and a build/painting tutorial
A picture of the Straight Hedgerow sections unpainted...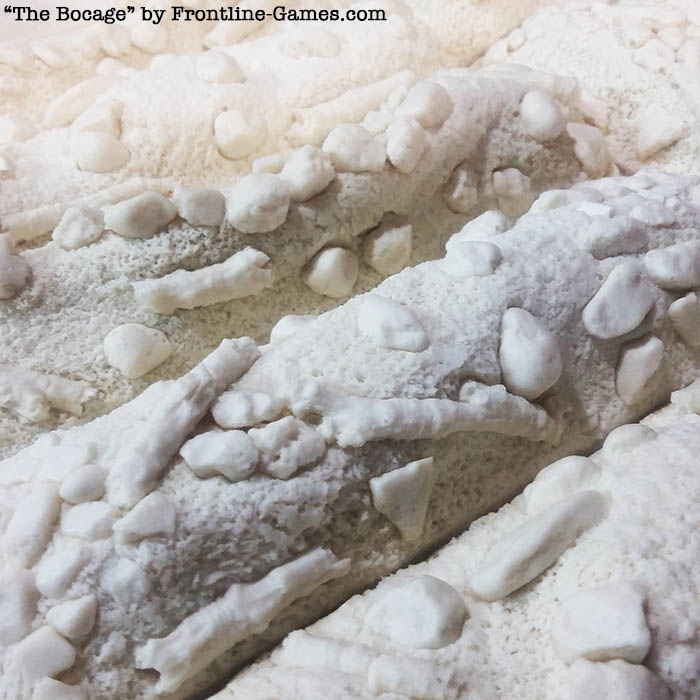 More information concerning the "The Bocage" Hedgerows of Normandy!
Once off the beaches, the men hit the hedgerow country. These were not like the hedges back home, but a thicket of rock, dirt, and all manner of vegetation which formed walls in this part of France. Miles of this country had to be taken, and it was some of the most dangerous fighting in the war.
The models were designed so no two sets will be alike.  This kit comes with several components such as Trees, "plants", foliage/flock for you to make your trees, hedges, and more! You can make each and every section different, so you can recreate your battles in the hedgerows of Normandy!
MODELS ARE SUPPLIED UN BUILT/UNPAINTED. PAINTED MODELS ABOVE ARE TO PROVIDE EXAMPLES.