Thanks to the help of our Kickstarter Backers (You're Awesome!), Stones Dungeon Tiles are now available for purchase in our store.
We are proud to announce the retail launch of our successful Kickstarter item, Stones Dungeon Tiles MASTER BUILDER SET! Create modular 3D dungeons and construct anything from sewer labyrinths beneath the city or the palace banquet hall with the use of our new double-sided modular DUNGEON TILES.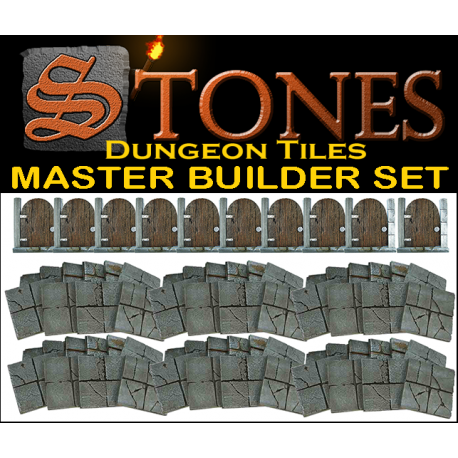 STONES MASTER BUILDER SET comes with:
• 60 Double-sided modular Stones 2" x 2" Dungeon Tiles, over 1/4" thick.
• 10 "Wooden" magnetic doors with door frames
Made of the new gray-black highly-durable, almost indestructible polymer-plastic "STONES" material with built in primer.  Easy to paint and customize, just wash and dry brush!